5Dimes operates out of sunny Costa Rica, were it has been serving players worldwide since 1998. The developers were granted a gaming license back then, and nothing has changed since. They also have a certificate of good standing from the local government. The reason you should know all this isn't just so we can make the site look good, it's because the site is obviously legal if it has been operating for so long with this many accolades and licenses. Another thing to know is that 5Dimes has millions of players from all over the world, and that simply would not be the case if the site weren't safe. If any player had their information compromised at any point, word would quickly spread around the internet as to how 5Dimes lets its players down. Luckily, that is not and has never been the case with this site.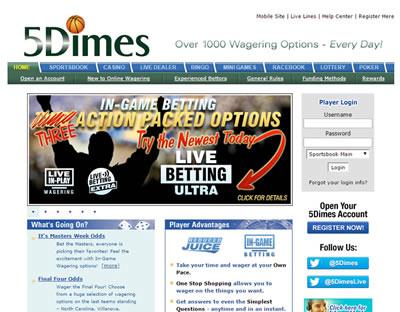 Joining 5Dimes is as simple as 1-2-3. First, you will want to click on the "join" button, and fill out some contact information. You will create a password and the site will send you a confirmation email. Once you click on that link, you will be a brand new member at one of the best MLB betting sites on the internet. Be sure to check out your state laws regarding the betting age to make sure that you meet their requirements. Most states either don't have betting ages, or they are set at 18. Both cases mean you only have to be 18 to join 5Dimes. However, some states do set the age higher, such as 21, in which case you should wait until you are that old.
5Dimes accepts a lot of different deposit methods so you should never have a problem loading your account. In order to make a deposit, you will go to the virtual cashier from any page, and pick your method from the deposit options. The site accepts credit/debit via Visa, MasterCard, AmEx, and Discover, as well as cash wire transfers, money orders, MyCash/gift cards, or Bitcoin transfers. Every single one of these is safe, quite fast, and reliable. Many players tend to choose credit/debit or cash wire transfers. The former is fast, taking only seconds, and doesn't come with any fees. The latter takes a little longer, but the limit is higher, $970 as compared to $500. No matter what method you decide to use, you want to read the instructions that 5Diems provides because they will give you information about speeds, fees, and limits. These should factor in to your decision making when depositing, and you never want to have to wait on your transfer to come through and miss out on a game.
There are almost as many withdrawal options as there are deposit options at 5Dimes. To access them, head to the virtual cashier and browse the payout methods. You will notice that there is no option to withdraw via credit/debit. Don't worry, this is how all online sportsbooks that accept US players work. American financial institutions are unable to accept credit/debit payments from overseas wagering sites. This is not a hindrance nor is it strange. You can choose from Western Union, MoneyGram, cashier's checks, money orders, debit card fund applications, MyCash/gift cards, or Bitcoin transfers. As you can see, there is no lack of options for withdrawals at 5Dimes. MLB bettors will always be able to get their funds quickly, no matter where they live.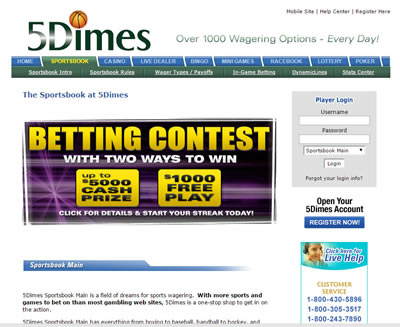 There are many reasons to choose 5Dimes as your sportsbook for betting on MLB games, and their bonuses are definitely up there in terms of importance. This site will give new players a major boost to their accounts, and will continue rewarding players throughout their entire memberships. The 50% new player reward will add up to $200 to your initial bankroll. This is a great way to get comfortable with the sportsbook and make some preliminary bets without risking your entire beginning bankroll.
Another amazing bonus that is exclusive to 5Dimes is their reduced juice. This bonus applies automatically to every player, and will save you dividends over the long run. What it does is automatically cut the usual amount of juice (vigorish) for each bet in half. Juice is the amount that the house takes off the top of each bet, if you weren't aware. The industry standard amount if juice is usually about 10% per bet. 5Dimes cuts this down to 5%, and saves you a boatload of money in the process. This will work on almost every MLB bet you make throughout the season. If that isn't a great reason to join today, I don't know what is.
Yes, you can now take the entire 5Dimes site around with you in your pocket. With mobile wagering, any member can have access to a world class sportsbook 24/7, no matter where they may be. There is nothing to download and you don't have to pay anything extra. Simply sign up for the site, and you can sign in to your account from your phone or other mobile device. That isn't all, 5Dimes also offers live betting, which can be accessed on your phone as well, and it ups the fun factor and profitability of any game. With 5Dimes love betting, you can wager on a live MLB game while the love odds update after every play. This gives you almost endless opportunities to wager on during a game, and lets you take advantage of any big shifts in the odds. Check it out.