If you live in America and are a fan of baseball, odds are that you will be able to join SportsBetting.ag. The only thing that would stop you would be your age. You must be over eighteen years old to join the site, but you should definitely check your local state laws regarding betting age before signing up. Some states set the minimum age above 18, usually 21. If this is the case where you live, it would be advised to wait until you are state-legal. Once you know that you are okay to bet, you will be able to join SportsBetting.ag without any problem because the site accepts players from all 50 states.
Yes it is. This site was one of the first to open its doors to American bettors way back in the 90's, and has been serving up the best MLB wager lines ever since. SportsBetting.ag is legal to use by virtue of its location. The site is based overseas, in the Republic of Panama, where owning and operating a sports betting website is absolutely legal. Since there are no U.S. laws that restrict residents from using legal sports betting sites, you will not be breaking any rules by joining either. The next time you want to place a bet on an MLB game, using SportsBetting.ag is one of the smartest, safest, and most legal choices that you can make.
SportsBetting.ag happens to have more deposit options than most other online sportsbooks out there. This is one of the main reasons the site is so popular, actually. Players can use their Visa, AmEx, MasterCard, Discover, or JCB cards to make a quick deposit via credit or debit. These generally take seconds, and only come with a 6.5% fee per deposit. To add money to your account, click on the cashier tab on the homepage, and choose your method. Your options aren't just limited to credit/debit deposits, you will also be able to use things like Western Union, MoneyGram, Bitcoin, money orders, gift cards, and bank wires. Even if you don't have a bank account, or just don't like to use your cards for online business, SportsBetting.ag has you covered. Each method comes with varying speeds, fees, and limits, so make sure to read the relevant info about each one before you make your deposit.
When it comes time for you to collect what you are owed, SportsBetting.ag will deliver your money post haste. They have almost as many payout options as they do deposits, and they are fast and safe. Most players tend to request their funds via Western Union, MoneyGram, or by a check in the mail. The latter does take a little longer than other methods, usually under two weeks, but you can withdraw anywhere from $500 to $2,500. However, Western Union/MoneyGram is even more flexible for smaller amounts. You can withdraw between $50 and $600 using these methods, and you can pick up your cash at any store that offers cash wire services (most grocery stores and gas stations do). Those are far from the only options though. You will also be able to collect your winnings using bank wires, Bitcoin transfers, gift cards, and more. SportsBetting.ag has one of the best varieties of payout options in the online sportsbook world.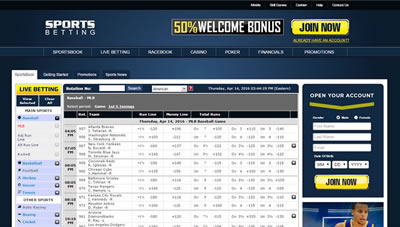 SportsBetting.ag offers a wealth of bonuses for MLB fans to take advantage of, starting with the amazingly generous 50% welcome bonus. This will add an extra half of what you initially deposit to your account, up to $500. There is nothing better than getting a load of free money to bet with when you first join a sportsbook. They also offer reload bonuses worth up to $1,000 for every deposit you ever make! Now, they don't just give you free money and let you withdraw it. You have to satisfy some requirements in the form of rollover amounts. There is an 8x rollover for the welcome bonus, and a 10x rollover for the reload. This means that you have to bet 8 or 10 times the amount of the deposit/bonus before you can withdraw what you have won. With 162 games during MLB season, this shouldn't be a problem for anyone to achieve.
SportsBetting.ag doesn't just offer an amazing sportsbook for MLB fans, it also includes some features that take the site to the next level. One of these is mobile betting, which allows players to take the entire sportsbook with them wherever they go. You could be sitting at a real game enjoying a hot dog while you bet on it from your phone or other mobile device. There is no extra cost and no download required, simply sign in to your account from your mobile device and start betting.
Another great feature that ups the fun and profit factors is live betting. This allows you to wager on current MLB games as they are happening. The live sportsbook will display MLB odds on the current plays, and you will get your results after the play is finished. This gives you almost endless opportunities to bet on a game. It also lets you take advantage of any big shifts in the odds that might take place throughout the course of a game, which you wouldn't be able to bet on in the regular sportsbook. Again, all of these features are free to members, so definitely check them out.