Now that you know how wagering on the MLB works at Bovada, we are going to answer some of the most common questions that we hear from new and potential members. If you are wondering whether Bovada is legal, if you can sign up, how to fund your account, and what kinds of extras they offer, this should answer all of your questions. If you have any other questions or concerns, you can contact Bovada's customer service department 24/7 at 1-888-263-0000.
The answer to this question is a conclusive yes. Bovada has been functioning legally for over two decades now, and they aren't going to shut down anytime soon. The reason that they are able to serve most American MLB fans is because they have a gaming license and a certificate of good standing from their local government. The site operates out of Canada, where owning and operating an online sportsbook is allowed. Check out the "about us" section at Bovada to learn more about who they are, and how they operate.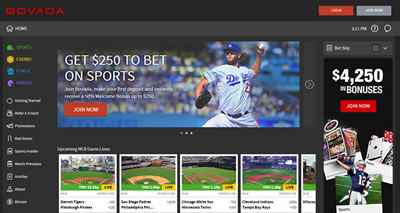 Bovada gladly accepts adult players from most states in the USA. That being said, there are a few states that Bovada does not accept at this juncture. They are New Jersey, Delaware, Maryland, Nevada, and New York. This is unfortunate, and it is because these states either already have sports betting opportunities, or they have certain laws that are in the process of being amended. Check out our other MLB sports betting site reviews to find a site that accepts you if you live in any of these states.
Once you have created an account at Bovada, you will probably want to make a deposit so you can start betting on the MLB lines. To do this, click on the balance amount at the top-right of the homepage. Click on "make a deposit", and you will see your list of available options. You will be able to choose from MasterCard, Visa, a cash wire transfer (Western Union, MoneyGram), or certain prepaid cards like Netspend. Most players tend to use credit/debit cards, or cash wire transfers. The former has a minimum of $45 and a maximum of $1,000, and a fee of 4.9%. Cash wire transfers have minimums of $100, maximums of $900-$5,000, and don't come with any fees if the deposit amount is over $300 (otherwise it is 4.0%). Credit/debit takes just minutes, while cash wires can take 2-3 days.
To withdraw your hard-earned MLB winnings at Bovada, you will want to go to the same "balance amount" link at the top right of the page. Click on "withdraw", and choose your method from the drop down menu. You will probably notice that there isn't an option to withdraw to a credit/debit card. This is the same for all MLB sports betting sites for American players, and it has to do with certain laws that prevent financial institutions from accepting certain forms of funds from overseas wagering sites. It does not hinder your ability to withdraw your money though.
The options you will be able to use are cash wire transfers (Western Union/MoneyGram), checks in the mail, and bank wires. Cash wires take about 1-2 days, and you can withdraw anywhere between $300 and $5,000. Checks take a little longer, usually under a week. You can withdraw $20 to $3,000 per check, and Bovada offers one free check payout per month (otherwise there is a $50 fee). Finally, a bank wire will take 5-10 business days, and you can take out $1,500 to $9,500. The fees vary depending on how much you request. Those are your withdrawal methods ad Bovada, and most people usually go with cash wires or checks.
When you log in to your Bovada account, you will notice a link on the sidebar that says "promotions". This will take you to the bonuses page. Bovada offers a new player reward of $250. That is free money for you, just for signing up and making a minimum deposit. There is a 5x rollover before you can withdraw what you have won with the bonus, but that will be easy to complete if you are betting during MLB season. There is also a refer-a-friend reward that will match your referral's deposit. Beyond these two initial rewards, Bovada is always coming up with great seasonal promotions, so keep your eye on the bonuses page to see what kind of free stuff you can get.
There are some excellent extra features at Bovada that makes betting on MLB games more fun, and more convenient. Live betting is a section of the sportsbook that allows you to wager on a live MLB game as it is happening. You can place wagers on every single play throughout the game, and your results will appear after the play is finished. This lets you take advantage of any big shifts in the MLB betting odds during a live game, and is insanely fun.
Another great feature that will make life easier for you is Bovada's mobile betting. This is not an app, and doesn't require any download. Simply sign in to your Bovada account from your phone or other mobile device, and you will be able to wager on any game from the palm of your hand. At MLBWagerLines.com we think the creators of Bovada have designed a perfectly portable version of the site to fit nicely to the screen of any device. You will also be able to make deposits, request payouts, and manage your account with your mobile device. It doesn't get any easier than that!